Calibration and repair of your measuring instruments
MeterCare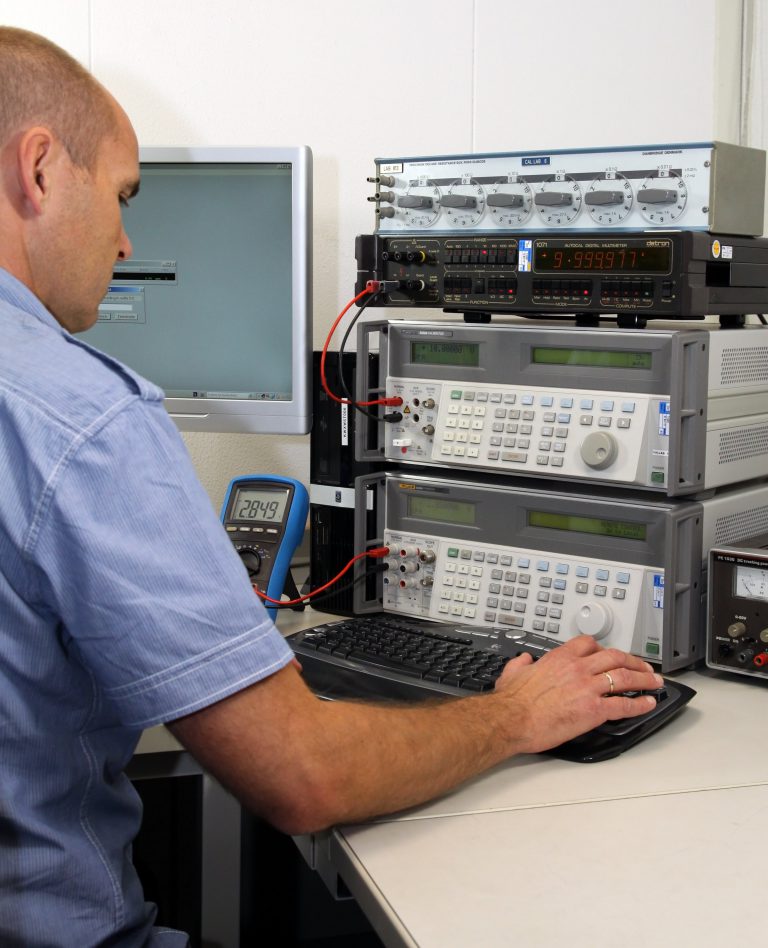 'MeterCare' is the collective term for the timely calibration and repair of your measuring instruments. MeterCare from KWx takes care of calibration and takes the monitoring of the set calibration interval out of your hands. With MeterCare-Extra you will also get support in supplied software and user questions.
Brand-independent calibration of measuring instruments
If technical data is available, we can calibrate any reputable brand of measuring instrument. KWx has various calibration procedures available, including with ABB, Amprobe, BBC, Chauvin Arnoux, Extech, Gossen Metrawatt, Hioki, Fluke, Flir, Norma, Megger, Nieaf Smitt and Metrel. For instruments that fall outside our lab's expertise, we collaborate with various external calibration laboratories.
Calibration according to standard EN ISO/IEC 17025:2017
Our calibration and repair laboratory is accredited by the RvA (Raad voor Accreditatie) according to the EN ISO/IEC 17025:2017 norm. You will never again have to carry out an audit yourself to check whether the calibration procedure is in order. A standard procedure has been developed for each type of test and measuring instrument, and we can also develop customer-specific procedures on request. Naturally, we carry out any repairs with original factory parts. We also provide a six-month warranty on replaced parts. If desired, the instrument can be provided with the latest product upgrades and NEN 3140 testing.
Which instruments do we calibrate?
We calibrate various test and measuring instruments, including:
For a complete overview of our RvA scope, see RvA K178.
No surprises: fixed rates
With MeterCare, you can be sure of fixed and known rates in advance. Should it turn out during the calibration of the measuring instruments that the instrument is not good, you will receive an obligation-free cost estimate in advance.
Calibration interval
MeterCare can determine the stability of the device after several calibrations. It is very important to monitor the calibration interval and change it if necessary, and MeterCare provides free advice about the calibration interval. Of course, you decide which interval is used. If, during calibration, it appears the instrument no longer meets the set specifications, we can adjust and recalibrate it after your approval, often using confidential factory data. You will then receive a certificate with the measurement results before and after the adjustment(s) being carried out.
Calibration call from MeterCare
To take the care of your measuring equipment off your hands, we include all measuring instruments from MeterCare in our database. In this database, all essential data of your measuring instruments are monitored. You will receive a call to have the instrument calibrated one month before the expiry of the agreed term. This service is free of charge!
Fixed lead times: A deal is a deal
Of course, you want a short lead time. With MeterCare, you can be sure of this: from the date of receipt, we will return your instrument(s) calibrated within five working days. However, you will need to make an appointment for this in advance. But if we exceed five days, then for each extra working day, we deduct 5% from the calibration price.
MeterCare Express
KWx reserves several hours per week for the so-called express calibration of measuring instruments. The turnaround time for express calibration is two working days. Please contact us about the conditions and rates.
Transport
Calibrations of measuring instruments are performed in our calibration lab MeterCare. If required, KWx will arrange for a parcel service or courier to pick up your measuring instruments. Ask us about the possibilities. Calibrated instruments are packaged by KWx and returned with a parcel service as standard.
Easily request a calibration report
If you have measuring instruments calibrated with us, you will have access to the calibration portal. Here you can log in and easily request calibration reports. This is done by scanning the QR code on the calibration sticker of your measuring instrument. In this portal, you can also view an overview of all measuring instruments that you have calibrated at KWx, including the calibration and recalibration date.
Returning a measuring instrument for calibration
Did you receive an appointment number from our schedule? Send your measuring instrument(s) with a completed order form to:contact details KWx MeterCare
Rexel's client?
Simply hand in your measuring instruments for calibration or repair at your local Rexel branch, and we will take care of the logistics. By filling in the form at Rexel, you give us the order for calibration or repair. When your measuring instrument is ready for use again, we will return it to your local Rexel office. Search here for a Rexel branch near you.
Advice, purchase, calibration and repair
At KWx, we always want to pleasantly surprise you with safe and smart electrotechnical products and services. You can come to Zeker Meten for expert advice on and to purchase test and measuring instruments. To get the most out of your measuring instrument, you can follow our training courses and workshops. The MeterCare technicians are always ready to help you with calibration and repair.
Why calibrations and repairs at MeterCare?
Since 18 July, 2019, MeterCare RvA has been accredited according to the standard EN ISO/IEC 17025:2017;
All calibrations of previously mentioned test and measuring instruments are traceable; and
Our measurement methods comply with the worldwide standard. This promotes international trade.
Certainty and trust
When using instruments, you want to be confident that they are safe and show the right results. Here's how MeterCare guarantees you the best quality:
Acceptable traceability,
Substantiation of measurement uncertainty,
The correct measurement methods and calibration results,
Checking for calibration equipment,
Calibration in an air-conditioned room, and
Well-trained staff.
Would you like us to perform calibrations and repairs? Please contact us via the contact form on the right.
Important: CTA to form https://producten.kwx.eu/sitecontent/media/Niet-Destructief-Meten/Metercare/Nederlands/Overige/opdrachtformulier-metercare-digitaal.pdf
Contact form for scheduling an appointment