Save money by an efficient handling of peak load
Peak shaving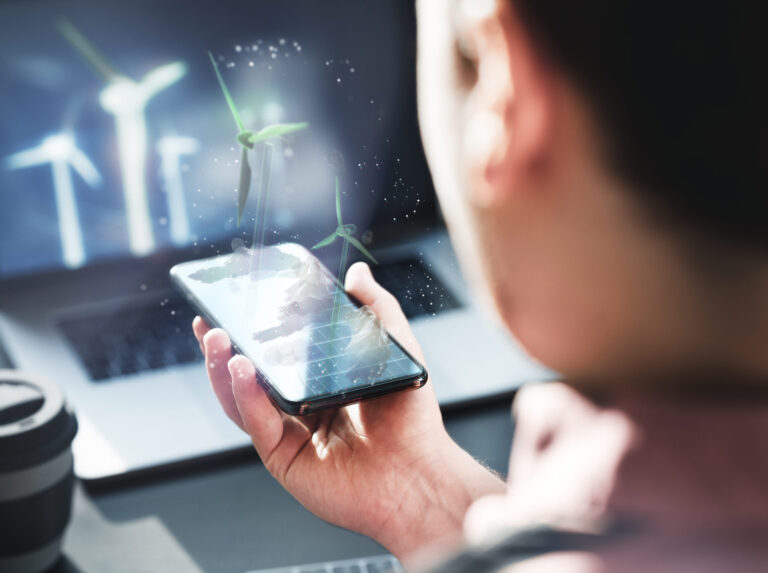 In your company you are busy every day to make sure everything runs as smoothly as possible. A reliable production process that is continuously improved and perhaps also expanded. However, developments on our energy grid present considerable challenges in the field of energy flows. A new connection is not possible or only possible to a limited extent, and existing connections cannot simply be increased. This poses challenges when it comes to peak operating times within the company. Smart use of energy can not only contribute to business growth, but also ensure cost savings.
Your company is charged by the energy grid operator on the highest peak in consumption. This consumption fluctuates throughout the day, with high peaks and deep troughs. However, the grid operator must always have the power available for the highest peak, making this the determining factor in the energy bill. The higher the peak, the more you have to pay.
When more energy is required than, for example, the contract value of a connection, a battery can assist as an energy buffer. This prevents the contract value from being exceeded and the contract including the associated fees being adjusted. The battery system thus forms a buffer to prevent peaks above contract value.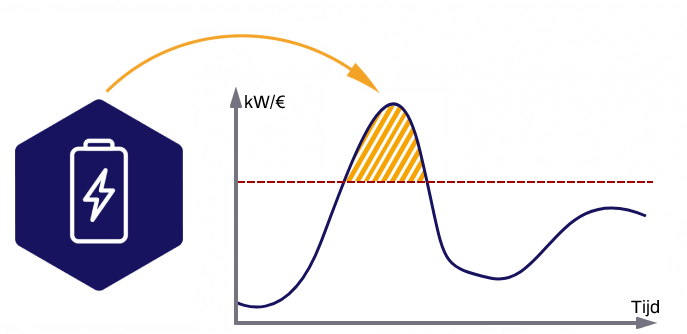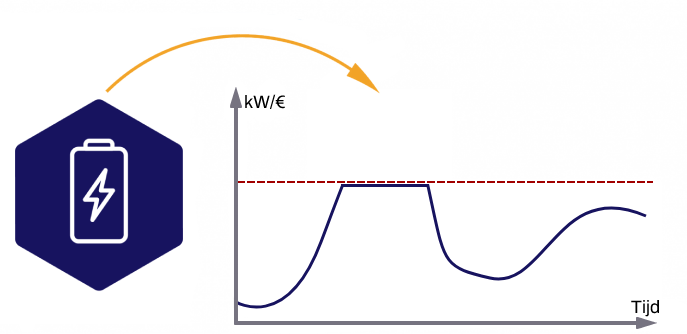 If consumption is lower than the contract value, the battery can be charged again, so that it is ready to absorb the next peak.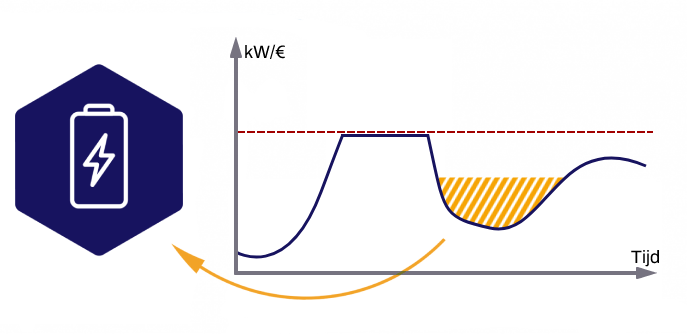 Peak shaving does not necessarily have to be realized with a battery. An Energy Management System (EMS) plays an important role in this, whereby parts of an installation can also be temporarily switched off during a peak. Think of a cooling system or a compressor. The EMS can also push the predicted consumption slightly forward to prevent peaks by, for example, regulating a cooling system to operate one degree colder so that it can use less energy when other systems might achieve peak load.
Peak shaving can be a solution for:
Network congestion and the inability to get a larger connection to the power grid
Staying within the limits of your power grid contract
Moving to a lower contract value and monitoring energy use
Peak shaving can also contribute to decarbonisation, reducing the use of fossil fuels, by charging the battery primarily from its own PV installation and/or charging it from the grid when sufficient wind or solar energy is available.
The business case for deploying peak shaving and the associated solutions is different for every company. Our specialists are happy to help you find the best solution for your company.
Fortona is your knowledge partner
Fortona is your knowledge partner in the field of the energy transition. Do you have questions or do you want advice? Please contact us.