KWx and Eekels: Electrification of two ferries for Lake Ontario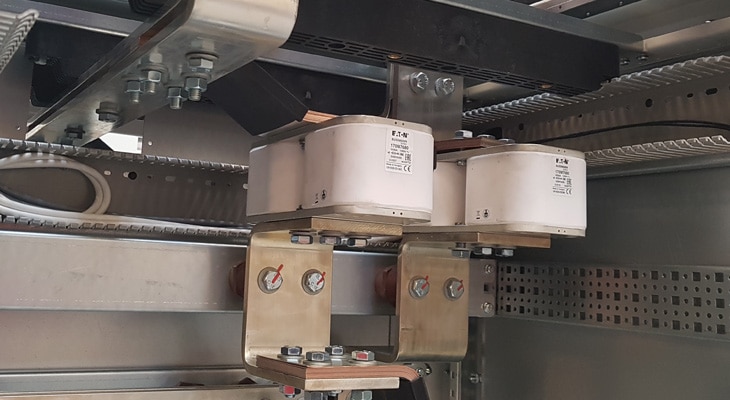 With over 100 years of experience, Eekels Technology, part of TBI, is a leading system integrator operating in two main markets: Marine & Offshore and Industry & Infrastructure. With regard to the former, Eekels is a system integrator in the truest sense of the word. Under the brand name MarPower, the company delivers integrated customer-specific solutions for vessels in the fields of voltage conversion, drive technology and automation.
Working on integral electrical systems
KWx has been a partner and supplier of power electronics components for Eekels for numerous projects in the fields of marine and offshore. Together with KWx, manufacturer Astrol and two other system integrators, Eekels was involved in the development of a series of DC breaker switches. Currently, Eekels is working on the integral electrical systems for two electric operating ferries that are being built by Damen Shipyards. The ferries will be operated on the waters of Lake Ontario, Canada. They are hybrid,  but will be powered mainly by batteries and have diesel generators on board to ensure maximum mobility. When loading and unloading passengers and vehicles, the ferry has a time frame of about 10 minutes to charge its batteries through an onshore charging station. Damen reports that the electrification of the two ferries will reduce emissions by 7 million kg carbon dioxide per year.
Reliability and a long lifetime
Reflecting on the project with Marvin de Haan (Cluster Manager at Eekels) and Ronald Kuiper (Lead Engineer Drive Systems at Eekels), Kuiper mentions that the main challenge was to fully integrate all components in a single Power Management System (PMS): 'We had to make all parts work together: the generators, batteries, thrusters, as well as the interaction with the onshore charging station. De Haan adds this was the first time a complex panel with such a high level of integrated automation was delivered through which the reliability and the lifetime of the system can be warranted. After successful testing, the cabinets for the first ferry were transported to the shipyard of Galati in Romania where both Damen and Eekels have facilities. There, the cabinets with the electrical installations were built into the vessel. Meanwhile, the production of the cabinets for the second ferry has started at Eekels' main production facility in Kolham (Netherlands). The first ferry is scheduled for delivery ex. yard early 2020, whereas the second, larger ferry will be delivered at the end of 2020.
Knowledge and commitment are key competences when it comes to partnership
Looking at the partnership between KWx and Eekels, Kuiper states that it originates from previous projects. 'We had to perform high level calculations for short circuit and arc flash hazard in DC systems. Based on the specifications of the drive manufacturer, we dimensioned the high speed fuses for the Ontario project. Then, together with KWx and manufacturer Eaton the fuses were selected.' De Haan: 'The relationship with KWx goes beyond single projects. We have been working together for many years and are quite satisfied with our partnership. Both parties have learned a lot, and the expertise we have gained throughout the years is applied and extended in the current projects.' When asked about the main benefits of working with KWx, De Haan responds: 'Knowledge and involvement. KWx is willing and committed to help when needed and make sure we stay on track during the project planning, which is quite a challenge. That's what we value in a partner. KWx is much more than a supplier of mere components, it has in-house knowledge and connects us to manufacturers. That is what really differentiates KWx from the conventional distributors.' He adds: it's great to see that KWx plays an active role in innovation, connecting several parties to introduce new solutions, for example the DNV-GL approved DC breaker switch.
Flexibility, speedy assembly and customer-specific solutions
Looking ahead, De Haan and Kuiper see an ever tighter collaboration between system integrators and shipbuilders, sharing knowledge and learning collectively. Furthermore, De Haan notices a tendency towards modular ship building. He explains: 'modular systems will allow for more flexibility, speedy assembly and customer-specific solutions.' De Haan is positive towards future collaborations between KWx and Eekels. He expects that the trend for larger DC systems aboard vessels will continue, causing a shift in the way systems are designed and built. Because of this transition towards DC systems, he believes parties such as KWx are well-positioned to partner with Eekels. Kuiper adds that protection of DC systems is becoming increasingly important, because safety onboard is a critical issue. Here, time comes into play, because you would want to minimize the consequential damages in case a short circuit occurs. In those instances a DC breaker switch could be a viable alternative to a high speed fuse. Furthermore, Kuiper foresees that classification societies will introduce new standards to ensure safety of DC systems.