The brands of KWx
IXYS ICD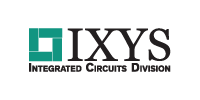 IXYS ICD designs and manufactures optically isolated solid-state relays (OptoMOS), mixed signal ASIC's, integrated high voltage circuits (IC's) and ASSP IC's. IXYS ICD's history in analog / mixed-signal and high-voltage designs enables the company to pioneer with highly integrated semiconductor solutions that replace both magnetism and improve performance in wirewound interface applications.
In combination with the knowledge of KWx, IXYS ICD solutions are used in, among others:
Telecommunication
Industrial security systems
Energy suppliers
Consumers
Medical market
Display market
Subject to rigorous testing and quality standards
IXYS is fully committed to European Parliament Directive 2002/95 / EC on Restriction of Hazardous Substances (RoHS) and has taken early initiatives to deliver environmentally friendly products that meet the needs of customers. Each of IXYS's divisions strives to be lead-free / RoHS compliant and to ensure that restricted hazardous materials are not present or within RoHS restrictions. In addition, all our products are subject to strict testing and quality standards. The products are certified according to ISO 9001 and ISO 14001.