Manage, control and protect with our MTL products
Eaton-MTL is a supplier of intrinsically safe products such as signal limiters. With these high-quality products intrinsically safe equipment (protection method Ex-i) in potentially explosive areas are correctly connected to the safe zone. Thereby processes can be managed. The MTL range also includes a series of signal conditioners.
Intrinsic safety in zone 0 (20), 1 (21) and 2 (22)
The concept of intrinsic safety ensures that Ex-i equipment is supplied with a limited amount of energy in potentially explosive areas. This eliminates the ignition of gas or dust mixture. A zener barrier or isolator reduces the energy supply and is located in the safe zone.
Examples of intrinsically safe devices in the above zones are sensors, proximity switches, signal transmitters, indication lights and sirens. For each type of Ex-i device MTL has a unique zener barrier or isolator available.
Zener barriers and isolators from MTL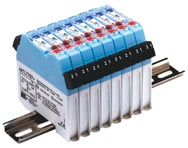 A zener barrier is a simple current limiter without galvanic isolation between the potentially explosive zone and the safe zone and must therefore always be well grounded.
An isolator provides a galvanically separated voltage. This means that the voltage at the output (potentially explosive zone) is completely separate from the voltage at the input.
The big advantage of the intrinsically safe concept is that maintenance and replacement can take place in the potentially explosive zones without having to be de-energized.
An intrinsically safe installation always consists of the intrinsically safe equipment (Ex-i) in the potentially explosive zone (s), the energy limiters – such as a zener barrier or isolator – in the safe zone and the cabling in between. In order to realize a well functioning intrinsically safe installation, all the above mentioned components in the circuit must be taken into account during the design phase.
Signal conditioners (not intrinsically safe)
In addition to zener barriers and isolators, MTL also has a range of signal conditioners. Often, the signals towards and from field equipment are not suitable for correct control and / or reading. Signal conditioners ensure that the signal is converted and / or amplified to the correct signal. They are called the converter conditioners.

Image: signal conversion
Aditionally, there are filter conditioners that reduce noise on the initial signal and conditioners that eliminate grounding problems. Splitting signals between field instrumentation and other instrumentation can also be done by applying a repeater conditioner.

Image: signal repeater
Finally, each type of signal conditioner contains a galvanic separation between the field instrumentation and the control instrumentation. This ensures prevention of the control system in an overvoltage situation.
The field instruments and signal conditioners are always located in the safe zone. In contrast to zener barriers and isolators, signal conditioners are therefore not intrinsically safe.